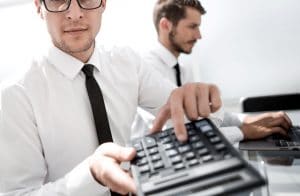 If using QuickBooks was the only form of bookkeeping you've ever dealt with, you wouldn't have any other system to compare it to. If you've never had help with cleaning or maintaining your files, or optimizing your software, then you may also fail to realize just how much you're missing out on. QuickBooks and QuickBooks Online have the singular goal of making it easier, more efficient, and more affordable for business owners to manage their books. However, mastering the use of the software isn't the same as getting by with it, and working with an experienced professional may be the best way to learn how.
Starting off on the right foot
QuickBooks works exactly how you tell it to, which means if you don't get it right from the start, it won't correct any errors on its own down the road. For example, learning to properly designate accounts payable and receivable is vital to making sure your software knows what data should go where. Without a background in bookkeeping, you might not know how to avoid such mistakes, or that they're the cause of the problems you have reconciling your accounts. The best way to avoid it is to work closely with a bookkeeping professional who has extensive experience helping businesses use QuickBooks.
Pinpointing and cleaning up errors early
If you've already gotten started with your software, it isn't too late to hire a professional and give them access to analyze your file management system. In fact, the sooner the better; the more you allow your software to continue operating under inaccurate data, the greater the inconvenience will grow. Having a trusted, experienced pro on your team will help you find the problem, solve it, and avoid repeating it in the future.
Get more out of QuickBooks with help from a pro
Maintaining a clean and optimized bookkeeping system can be challenging, even with QuickBooks and QB Online. For more information about how working with a pro can help you get the most out of your bookkeeping software, email us at [email protected], or contact us by calling 214-273-6599.