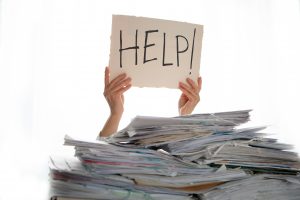 It goes without saying that organization plays a significant role in ensuring your business is running smoothly and efficiently. This notion can be applied to a variety of areas as well, including scheduling, the chain of command, and even keeping up with your finances and assets. Indeed, it can be difficult to accomplish the many goals you have for your business without the help of some form of organization, and your books are no different. In today's blog, your bookkeeping professional at HWB Services takes a look at the impact that disorganization has on your bookkeeping platform, and explains how cleanup and maintenance can help.
The Pitfalls of Constant Use
Just as a hammer might lose some of its sturdiness over the years of constant use, your software can become less efficient as well. When it comes to balancing your books and ensuring all transactions are input correctly, the same is true. In other words, soon you may find yourself flustered with the program that once made your life much easier, and this is due to a lack of maintenance.
Indeed, in many cases, a single misplaced file can bog down the entire program, causing you to spend much more valuable time getting QuickBooks to work and taking away from other important tasks you may need to fulfill. In situations such as these, your business could benefit from a thorough cleanup.
Increasing Efficiency
A cleanup can be a daunting endeavor, especially if you attempt to tackle it on your own. Fortunately, this is where we come in to help. We will take the time to sift through every file in your program – from the most recent transaction all the way back to the first of your business.
During this process, we will take care to ensure each file is in its correct place, as well as clean up transactions or other information that may be contributing to your current inefficient run time. In other words, you will be able to get back to the many important tasks you need to accomplish while ensuring that your books are taken care of. For more information about this process, reach out to our team today.
Consistency with Monthly Maintenance
It is one thing to go through every file and ensure it is in its respective place, but without proper maintenance, you could just as easily find yourself back at square one. Because of this, our team recommends designating a professional bookkeeper to implement and uphold a routine maintenance plan. This will include keeping track of your banking transactions such as matching deposits to A/R and payments to A/P.
Learn More Today
Contact HWB Services by calling 214-273-6599 to learn more about your bookkeeping options today, or to speak to our team to get started on your QuickBooks assistance.