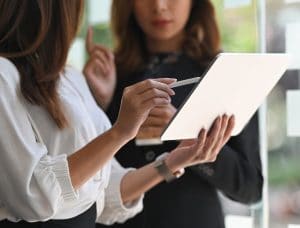 Bookkeeping isn't the kind of skill that all business owners need to master to successfully run their companies. However, it's a vital skill for the business overall, and to avoid having to hire an in-house employee, many business owners choose to rely instead on an intuitive bookkeeping platform. While many of today's bookkeeping software options are advanced enough to make bookkeeping fairly simple, implementing and managing the software isn't always as easy as you might expect. Even with an advanced bookkeeping platform, there are times when working with a professional will be essential to ensuring your software continues to function properly and efficiently.
You're going online for the first time
If you've worked with a bookkeeping platform for years and you've grown comfortable with it, but are now considering taking it online, the prospect of transforming your whole bookkeeping system can seem daunting. The good news is that it may not be as challenging as you'd expect, as long as your current software offers its own updated, online version. Despite this, there's a lot of room for error in setting up an online bookkeeping platform, and working with a professional can help you eliminate the risk of error.
You want to tweak your platform
Whether your bookkeeping software is on a desktop or online in a cloud, a good platform will offer you several different options for customization and tweaking the platform to fit your business' daily operations more efficiently. The more options there are, the more confusing and difficult it can become to choose the right ones for your business. Rather than experimenting with trial and error, and risking losing significant levels of productivity in the process, it may be a better idea to work with a professional who understands which features would suit your business best.
You need to clean up your system
The more you use your bookkeeping platform, the more familiar you get with it, and the less you'll have to rely on your third-party professional's expertise. However, your business' operations are dynamic, and your bookkeeping system isn't guaranteed to continue running as smoothly as it does at the moment. When your bookkeeping processes start to slow down or become fraught with errors, it's a good idea to call on a professional as soon as possible to perform a comprehensive cleanup of your system.
Learn how a bookkeeping pro can help you
While QuickBooks allows you to handle most of your business' bookkeeping processes on your own, there are times when it pays to have the help of a professional on your side. For more information, email us at [email protected], or contact us by calling 214-273-6599.