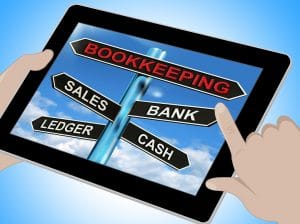 Over the last few decades, increasingly more companies have had to take some or all of their business online in order to keep up with an increasingly more connected and rapid marketplace. However, while many companies have sought ways to stake their claim in online markets, not all have been equipped to do so properly. For example, before you can expect to operate efficiently in any e-commerce capacity, it's important to have a bookkeeping system that can keep track of your e-commerce sales.
Going from desktop to online bookkeeping
Most small and medium-sized businesses have found ways to handle things like bookkeeping in-house, usually without having to hire a full-time expert to do it for them. Intuitive bookkeeping platforms, such as QuickBooks, have been an integral part of this, and companies have long had such platforms installed on their business computers at the office. However, an online bookkeeping platform allows you to access the same data and information, and to perform all essential bookkeeping duties, from anywhere that's most convenient. For most online platforms, there are also several additional features that you can utilize to optimize your online bookkeeping performance now and in the future.
The additional features you can optimize
When your bookkeeping platform is centralized in the cloud, you have a wide range of options for optimizing your business' overall efficiency and productivity. For example, online bookkeeping systems can automate functions such as billing, and tie directly to partner companies' and vendors' systems for more efficient supply chain function. However, like their desktop versions, most online bookkeeping systems are designed for companies in several different industries, or a few specific industries, depending on the system itself. It's important to take time to know which online platform and which additional features will suit your business best before you invest in upgrading your entire bookkeeping system.
How to save yourself time by seeking help
The most important thing to remember about upgrading your bookkeeping platform from a desktop version to an online system is that it pays to do it right the first time. The level of integration needed for your online bookkeeping to truly impact your business means that it may be difficult and time consuming to choose another system once you've gotten started. The best way to ensure you make the right choice the first time is to seek the expertise of a bookkeeping professional. With extensive experience in multiple online bookkeeping systems, an expert can help you choose the system that offers the most beneficial operating system and features for your business.
Learn more about switching to online bookkeeping
In today's more connected marketplaces, it makes more sense for companies to switch to an online bookkeeping platform that suits their industry. For more information, email us at [email protected], or contact us by calling 214-273-6599.