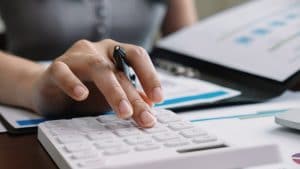 2021 is finally here, and while it would be foolish to think that the effects of the coronavirus pandemic and other concerns would magically be lifted, there is something about a new year that brings hope and promise. Plus, it does not hurt to be finished with a year that so many have suffered from. That being said, ensuring that your small business is taken care of and set up for ultimate success is a major goal, and your team at HWB Services is here to explain how having a bookkeeping pro on your side can benefit you and help you accomplish that goal.
Begin the Year Organized
Many small businesses utilize software such as QuickBooks to stay on top of their books. The concern is, however, that the program only works as well as you tell it to, meaning any errors that are input from the start will not get corrected on their own down the road, potentially resulting in wildly off calculations. In fact, learning how to properly designate accounts receivable and payable is crucial to making sure your software knows what data should go where. Without explicit training in the program or a background keeping books up-to-date, you might not know how to avoid these mistakes or how they become the cause of major problems you face when reconciling your accounts. To avoid this, working closely with a bookkeeping professional with extensive experience helping businesses use QuickBooks is a must.
When QuickBooks Needs Maintenance
A common misconception that many believe to be true is that If you've already gotten started with QuickBooks on your own, it is too late to hire a bookkeeping professional. This is not the case, and in fact, the sooner you enlist their services, the better! Bookkeeping software can become bogged down with excess files, causing the system to not only run slower but cause other issues as well. What's more, the longer you allow the program to operate under large amounts of inaccurate data, the greater the inconvenience will become, causing much bigger concerns down the line. To combat this, having a routine maintenance plan can keep your files in order and optimized. At HWB services, we can provide monthly maintenance from a trusted professional to help you not only find the problem but solve it in a manner that helps you avoid repeating it in the future.
Improving Efficiency
As a business owner, the last thing you want is to have technical financial concerns such as your books take up a significant amount of your time. Having a dedicated person to manage your accounts not only restores your time but provides a trained eye to detect important updates that might otherwise be missed. To avoid missing important notices about service outages and security updates, your business could benefit from having a pro on your side. For more information, contact our team today.
Reach Out Today
Starting the new year off right with a bookkeeping pro on your side can benefit your business, and we are here to help. Contact HWB Services by calling 214-273-6599 to learn more today.