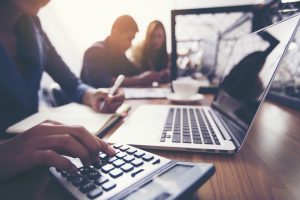 Being a small to medium-sized business, a number of roles and decisions that contribute to your overall operation are typically left up to an administrative team or you, the business owner. This means that your staff serves a vital purpose. It unfortunately also means that your position may include much more than you were anticipating, including financial, budgeting, and bookkeeping capabilities. In today's blog, your team at HWB Services will take a look at three major ways your business could benefit from the help of a bookkeeping pro.
It Saves You Time
Not much is more taxing for a small business owner than having to not only ensure your business is operating as it should and fulfilling its mission, but tending to a number of clerical items as well. Indeed, it can become difficult to get much done if you are constantly having to pour hours upon hours of time into your bogged-down bookkeeping program. What's more, software such as QuickBooks can provide a number of benefits from small businesses such as yours, however, you will only get as much out of it as you put in, meaning experience with the program itself is very valuable. To alleviate this concern and also save you time and effort, consider enlisting the services of a pro!
With a bookkeeping professional on your side, you can rest assured that your program is being utilized to its full potential and you will get to spend your time focusing on other tasks – such as running the business! For more information about our team, contact us today.
Professional Advice When You Need It
Another major benefit of utilizing a pro is your ability to obtain important QuickBooks advice when you need it without the stress and hassle of hiring a full-time accountant. We understand that large companies benefit from an in-office financial team, however, this feat is much harder to guarantee for small to medium businesses alike. With the assistance of a pro, you can better manage your books without breaking the bank.
Getting the Most from Your Program
Just like any tool, QuickBooks only functions as well as you understand how to use it. In other words, a vast knowledge and familiarity with the software can be utilized to get much more out of the program than the simple benefits that lie on the surface. Indeed, it has a user-friendly interface to make keeping your books in order simpler, but a thorough understanding on top of that can cause your capabilities to extend beyond general use and make your life much easier.
Speak to Our Team
For more information or to contact our team about how we can help your business, contact HWB Services by calling 214-273-6599 to learn more today.