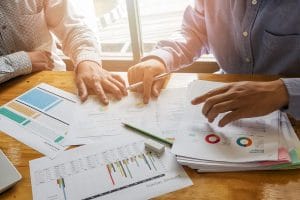 Business owners can spend years working with QuickBooks and only scratch the surface of the software's capabilities. For many business owners, it's enough to keep things running, even if it does seem challenging to keep up with their evolving business, and the platform itself seems to run slower and slower every month. Yet, some business owners can get started with their QuickBooks platform, and within a matter of months, have it running smoother and more efficiently than other business owners ever thought possible. Not all of them are geniuses who learned the ins and outs of QuickBooks in a flash. On the contrary, many business owners who get the most out of their QuickBooks do so with the help of a bookkeeping professional.
Dealing with QuickBooks directly
One of the more direct ways a professional can help you get the most out of QuickBooks is working with the system directly for you. This can include helping you with setting up the system by programming the right commands, organizing files correctly, and more so that you don't have to. If your goal is to streamline your bookkeeping, this can be the most efficient use of both your QuickBooks system and your bookkeeping professional's time. If your goal is to learn the system more completely, then you can learn more by working together and watching how it's done.
Teaching you to be more efficient with it
Teaching you to use your QuickBooks system can be the better option for preparing you to take over the system entirely. If you have a flair for bookkeeping, or simply prefer to control every aspect of it, then the experience you gain (and the head start your professional can give you) will help you significantly in the future. Having a professional at hand as you learn will mean getting answers to any questions you may have, often in real-time, and from someone who already has knowledge of your business' bookkeeping needs.
Cleaning and maintaining your system routinely
In addition to working with your system and teaching you to be more proficient at it, a professional bookkeeper can help set your business up for success with systematic file cleaning and routine maintenance. Over time, your files can become cluttered, accounts might become disorganized, and other mistakes can cause your system to slow down. Having a trusted professional clean up the files will keep your QuickBooks running at optimal efficiency.
Learn how to maximize your QuickBooks proficiency
Working with a professional doesn't just make your QuickBooks more efficient; it can also help you significantly improve your own skills with the system. For more information, email us at [email protected], or contact us by calling 214-273-6599.