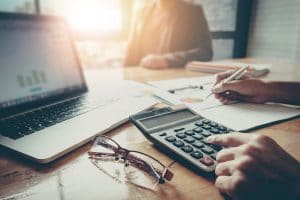 With the right bookkeeping software, like QuickBooks, businesses of all sizes can keep their books and their operations running smoothly with little or no professional help. The overall savings of keeping their bookkeeping processes in-house, and without having to build out an entire bookkeeping department, are substantial. However, that doesn't mean having QuickBooks eliminates any benefit that you might reap from working with an experienced professional. In fact, many of the companies that utilize their bookkeeping software to greatest effect are only able to do so thanks to the advantages of working with a pro.
Take bookkeeping off your hands completely
Simplifying your business' bookkeeping processes is key to making it possible to handling it all on your own. Yet, there's another advantage on the other end of the spectrum – making it easier and more affordable to turn your bookkeeping over to a professional completely. If your preference is to not have to worry about bookkeeping at all, then centralizing it all on a platform like QuickBooks can make it much more efficient and affordable to hire a single professional to handle it all for you.
Learn to use your software like a pro
For many companies that utilize QuickBooks, turning their bookkeeping completely over to a professional isn't their main goal. In fact, if possible, they would prefer to keep every aspect of their business management in-house, including and especially the handling of their finances. However, working with a professional who's experienced and skilled at using QuickBooks for small and medium-sized businesses will help you master your platform faster. You can learn which bells and whistles work best for optimizing your business specifically, without any guesswork and without having to suffer through as much trial and error.
Have a professional ready to optimize your system
Even after you're capable of running your QuickBooks as efficiently as possible on your own, there are basic bookkeeping fundamentals that power your platform's algorithm, and that are much more complex to understand. This is why it's important to have a professional you can rely on to perform comprehensive system cleanups and routine bookkeeping maintenance. This will help you avoid complications due to errors in your filing system and ensure that your bookkeeping system keeps running as smoothly as possible.
Learn how hiring a pro can enhance your QuickBooks' efficiency
QuickBooks software can make bookkeeping a breeze in many different ways. Yet, it may still be worth hiring a professional to help you make the most of your software's capabilities. For more information, email us at [email protected], or contact us by calling 214-273-6599.