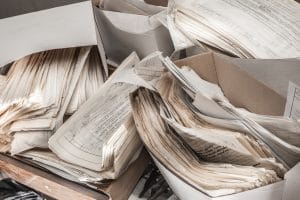 Jumping on board to streamlining your bookkeeping is the best thing you can do for your business, especially in this technology-driven day and age. What's more, electronic bookkeeping is the move for small and medium-sized businesses alike, making keeping up with your company assets much easier. In today's blog, your pro at HWB Services wants to address the benefits of monthly QuickBooks maintenance and how it can make keeping up with your books much simpler.
When it Gets Out of Hand
If you have recently switched over to QuickBooks, chances are, you may have a lot of sorting to do. What's more, the platform's capabilities offer a wide array of uses that only an expert breadth of knowledge can begin to utilize. Indeed, one of the program's greatest appeals is how it can help you track every transaction your company makes, while also paying mind to organization and accessibility. Like any tool, however, it becomes less efficient the more you use it if files are not stored properly within the system, causing excessive time spent attempting to reconcile your invoices, credit card payments, and more. The reason this occurs is because the average QuickBooks user doesn't have the extensive bookkeeping experience required to properly do so, meaning an increased chance at making errors. What's more, these errors will continue to be made if an expert does not come in to help. Fortunately, that is where our services can assist!
Eliminating Clutter
Cleaning up your program entails more than just deleting or moving files. In fact, a typical sweep includes going through all transactions from the earliest files completely through now in order to find the problem. Once it has been addressed, we'll make sure you do not experience it again by reconciling all of your assets, including credit card accounts and more to ensure that all the information in your QuickBooks is accurately maintained. For more information, contact our team today.
How a Pro Can Help
It is one thing to handle your books with a service that makes it a smoother process, but it is another to do so in the most optimal way. With the use of a pro, you can benefit from a culmination of years of experience in commercial bookkeeping and management. This not only includes records cleaning, but also monthly maintenance in order to help businesses like yours get the most out of the platform. For more information about the uses, reach out to learn more.
Contact Our Team
Services such as QuickBooks can streamline your bookkeeping with a user-friendly interface. If you do not make sure to maintain your files, however, the system can become bogged down and function sub optimally. Contact HWB Services today by calling 214-273-6599 to learn more and meet with a pro today.