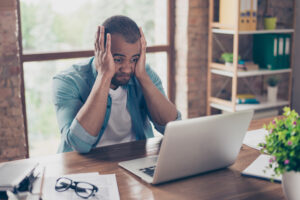 If you haven't been using your QuickBooks correctly, or you have gaps in your records, this can slowdown how well the system works, and complicate things for your company, whether you have a big or small business. But don't worry, even if you have missing years and a messy record system, you can come to HWB Services for help!
When You Need a Cleanup
QuickBooks is so vital for businesses big and small because the software keeps track of all transactions your business makes. But if files are not stored and organized correctly, this could cause problems to accumulate in your records. The system becomes ineffective and slow, and the errors will bog down your system and impact how well your company runs. This is especially true if the ones operating it don't have bookmaking and accounting experience.
In addition to working with new businesses, we can help established ones by cleaning up their records. If you have issues with your record and software, and things are slowing to a crawl, talk to us! We have the skills and experiences to help clean up your records, and even make up for gaps and missing years to ensure accurate bookkeeping. Running a small business leaves little margin for error, and we don't want minor mistakes in the record keeping to cause trouble for your business!
How Our Team Will Help
How do we help? Well, we will optimize your system by cleaning everything, going through and organizing your entire transaction history, from your first files to the present. This allows us to pinpoint the source of all your trouble. We then correct the problem and reconcile all your cash, A/P, A/R, and credit card accounts to make sure all data is being inputted and maintained accurately. Moving forward, you can enjoy peace of mind!
Maintaining Your New System
Moving forward, we can offer advice on maintaining your system accurately, or we can even keep your bookkeeping for you. This ensures you can move forward with accurate bookkeeping, and that you can focus on the other aspects of your business. Whether you're a small business just starting out, or an established one struggling to maintain accurate bookkeeping, our team is ready to help.
If you have any questions about our services, or to start working with our company, please contact our team today! We look forward to talking to you, and helping your business make huge strides with their bookkeeping in 2022 and beyond.
Do You Have Any Questions?
Contact HWB Services by calling 214-273-6599 to learn more about the bookkeeping options we offer for your company, or to talk to our team to get started on your QuickBooks assistance. We're here to help!