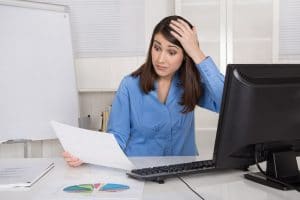 The more business owners learn about their QuickBooks and QuickBooks Online platforms, the more the software seems capable of. However, figuring out which tricks and shortcuts work, or how to correct a problem that's causing other, time-consuming issues, isn't always an easy or clear cut process. Fortunately, you can get answers to all of your questions, and even learn things you may not have thought to ask, by speaking with a dedicated professional.
Is there a faster way to send statements?
Programming your software to compile and send statements might seem simple at first, but as accounts are left unsettled and balances start to grow, you might find it growing more complicated, and fast. Some things you can automate, such as routine statements for recurring charges or for late payments. Some, however, you'll have to create and send manually, especially for non-routine circumstances. By working with a professional to setup your QB statements, you won't have to guess which ones should and shouldn't be automated, and have a better chance at avoiding headaches later.
Is QBO a good solution for payroll?
Payroll can be one of the more complicated and dynamic aspects of a small business's bookkeeping, but it's also one of the more important ones to get right the first time, every time. With QuickBooks online, you can simplify and streamline payroll even for employees who work from home or remotely in the field. QBO allows you to setup company-wide payroll, with taxes automatically calculated, paid, and recorded. You can also manage employee benefits from the QBO platform and help boost the quality of your company's HR services.
Should I ask a professional for help?
When you're setting up your QuickBooks Online platform, or if you need help streamlining it to run faster and more efficiently, getting help from a bookkeeping and QB professional may be your best option. Many of the questions people have regarding their QuickBooks services stem from correcting issues that could have been avoided. When you work with a professional from the beginning, you can avoid having to take time to solve avoidable problems, and learn how to optimize your bookkeeping from the start.
Get answers to more questions by contacting us
Understanding and optimizing your QuickBooks system can be challenging, but you can make it easier by getting help from a dedicated professional. For more information, email us at [email protected], or contact us by calling 214-273-6599.