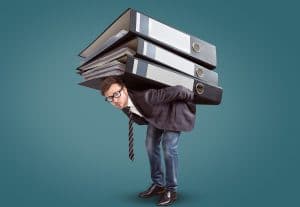 If you want to know how any business is doing, just look at its books. At any given moment in time, the way your books are organized and how adept you are at keeping track of them have as much to do with your business' financial health as anything else. From the day-to-day operations and processes of running your business to analyzing trends and setting up your accounts for optimal convenience, you have a better chance of streamlining your business' bookkeeping with the right software, and with help from a pro.
1. Use QuickBooks Online, if you don't already
One of the most important bookkeeping tips for your business is to set up and start using QuickBooks Online, if you don't already. Many businesses already use the native desktop version of the bookkeeping software, and have enjoyed great success thanks to its use. However, much of today's business is done online, and making sure your business can keep up means having a system that's built for online bookkeeping. The good news is that, if you already use desktop QuickBooks, then the online version will feel familiar enough for you to adapt to it quickly.
2. Do routine maintenance on your files
If you've already transferred your bookkeeping system online, then you're headed in the right direction. However, being able to access your QuickBooks anywhere and make updates on the fly doesn't mean keeping your files organized will take less effort. It's important to perform routine file cleaning and maintenance to spot any errors that might be affecting your system's algorithms. Have a professional perform the cleaning and maintenance, and follow their recommendations closely to avoid repeating the same mistakes in the future.
3. Work with a pro to optimize your accounts
Having a professional bookkeeper clean and maintain your books, especially one who's well-versed in all things QuickBooks, is a great way to ensure that your bookkeeping software delivers its full value. You should also hire a professional to optimize your filing system and account management techniques using tips and tricks of the trade that only the most seasoned QuickBooks users are aware of. Whether you're transferring to QuickBooks online or want to make your existing online system run more smoothly and efficiently, then your best bet is to hire and work with a pro you can trust.
Get help with bookkeeping for your business
Running a small or medium-sized business means handling different challenges every day with optimal efficiency. With these tips, you can help make sure that bookkeeping is one of the lesser challenges. For more information, email us at [email protected], or contact us by calling 214-273-6599.